UK Retail Inflation Report summary
January 2021
Period covered: Period covered: 01 Dec 2020 – 31 Dec 2020
CPI inflation accelerated in December, rising by 0.6% year-on-year, up from the 0.3% rise in the previous month and above market expectations of a 0.5% rise.
Reduced restrictions due to Covid-19 resulted in just nine basket items being unavailable (3.0%) in December, down from 72 items last month.
Four out of the 13 broad groups made notable upward contributions to the change in the 12-month inflation rate in December, the largest of which came from Transport (0.13 percentage points, pp), driven by Transport Services. Indeed, air, sea and coach fares all saw prices rise this year to a greater extent than a year ago. Rising fuel prices also contributed as some Covid restrictions eased.
Clothing & Footwear (0.13 pp) also made a large upward contribution with prices rising marginally this year compared with a decline a year ago. This was against the typical seasonal trend where prices fall between November and December. The majority of upward pressure was exerted by women's and men's clothing with smaller contributions from footwear and clothing accessories.
Notably, between November and December, the proportion of clothing and footwear items being discounted increased which should have lead to an overall decline in clothing and footwear inflation. However, a greater proportion of items returned to higher prices during December (after being discounted during November) offset this rise in discounted items.
Consumer Price Index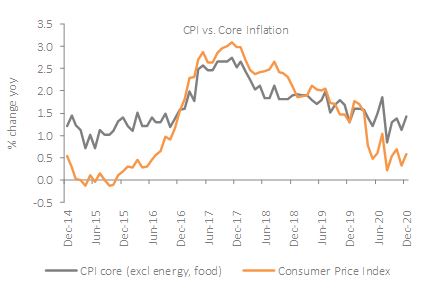 Source: ONS