UK Online Retail Sales Report summary
November 2020
Period covered: Period covered: 04 October 2020 - 31 October 2020
Online sales growth
Online retail sales rose by 59.7% year-on-year (value and non-seasonally adjusted) in October, against an 8.8% rise in the same month a year ago – the strongest rise since June.
This was an improvement on the previous month with sales growth outperforming the three-month and 12-month averages of 55.0% and 35.3% respectively.
Online penetration rises
Rising coronavirus cases and increasing local restrictions nationwide during the month saw anxiety amongst consumers increase with spending transferred to the online channel at the expense of store sales.
Online sales accounted for 28.1% of total retail sales in October, the strongest since June.
Online vs store sales
Since the onset of the pandemic, the online channel has maintained its level of average weekly sales growth, despite shops reopening in June.
Indeed, online sales growth rose by 73.1% in June year-on-year, with average weekly online sales remaining above £2,000m ever since, compared with an average of £1,380m across the same period a year ago. This highlights a step-change in consumers shopping behaviour.
Online Christmas
In the absence of shops being open and tougher restrictions when lockdown ends, we anticipate this Christmas will be the biggest digital event ever.
Our own research shows that more than one in 10 consumers (13%) expect to do at least 90% of their Christmas shopping online this year, which could stretch retail's capacity to the limits.
Online penetration rate strongest since June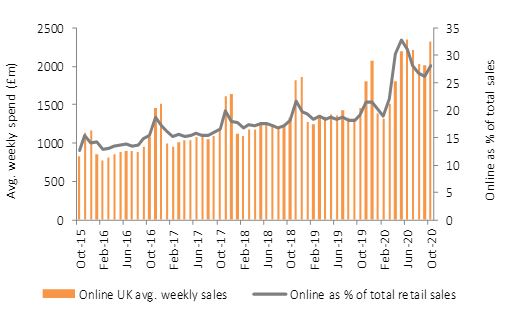 Source: ONS