Watch our
10 Retail Trends in 2021

video to get a taste of our report

2 minute watch
Outlook for the UK Retail Industry 2021
The world of retail is moving at a break-neck pace in 2021 as a myriad of disruptive forces coalesce at this time. The industry is traversing through huge structural changes as the customer journey evolves rapidly with the seismic shift to the online channel.
Here are the themes for our 10 Retail Trends for 2021:
The changing face of consumers

Long term impact of Covid-19

Channel shift to online

Prioritising digital in the customer journey

The changing role of stores

Brands connecting directly with consumers

Raising Environmental Social & Governance (ESG) credentials

Developing resilient supply chains

Manging Brexit policies

Updating business models
The accelerated shift towards the online channel since social distancing took hold in March has not been surprising. Nevertheless, the shift has led retailers having to transform operations in a matter of weeks – not years – to cope with online practically doubling in some categories such as Homewares.
This is seeing retailers fast track digital integration, using innovation to come up with cunning ways to leverage existing stores to support online sales. For example, Dunelm quickly introduced a contact-free 'deliver-to-car' click and collect alternative, while partnerships with third parties such as Deliveroo and Aldi continue to provide a lifeline to those dabbling in e-commerce.
A greater focus indoors has seen home categories outperform in recent months. But continued elevated levels of demand for home furnishings is unsustainable, given that the housing market continues to be dogged by low supply going into the new year.
When shoppers do venture out, they appear to be avoiding historically crowded places, with consumers re-discovering local and out-of-town shopping. In 2020, footfall in city centres was at around half the level of 2019 throughout the summer months as consumers avoided public transport.
With such unsustainable levels of footfall, retailers are reducing their reliance on costly stores. H&M is set to close 250 stores worldwide in 2021, while luxury label Aspinal of London is looking to shutter all its UK stores to move the brand online.
Retailers that are keeping the lights on in shops will be looking at rent reductions, as physical stores fundamentally generate less revenue. As stores move to turnover-based rents, the rebalance of power between retailers and landlords shifts in favour of the former.
Such cost cutting underlines a strong focus on balance sheets to ensure retailers do not burn through cash over the coming months. Unfortunately, fallout in the form of redundancies and administrations is inevitable. Also, the pressure on working capital remains severe. But it also provides an opportunity for M&A activity and retail partnerships.
With the UK's departure of the European Union (EU), supply chain disruption is also likely to occur with elevated costs (especially for the food and drink sector) and new administration procedures.
Throughout 2021 as industry restructuring unfolds, there will be many opportunities for retailers to watch out for:
Gaps forming in the market as administrations occur

Points along the customer journey where relationships can be strengthened

Engagement of new customer segments online

Streamlining processes for greater efficiency

New partnerships to enhance propositions and capabilities

Innovation between in-store and online for new consumer experiences

Fostering genuine consumer relationships in challenging times



Harnessing these opportunities effectively requires a deep understanding of all the key factors.
Consumer Environment

Covid-19 Impact
Consumer behaviour
Consumer Confidence
Labour market & job losses
Wages & disposable incomes
Credit and Household Incomes
Inflation
Housing Market & Assets
Interest Rates
Brexit

Retailer Environment

Covid-19 Impact
Brexit
Supply chain disruption
Shift to online
Operating Costs
Cash flow
National living wage
National minimum wage
Business Rates
Sourcing Costs
Investment
Behavioural Changes
---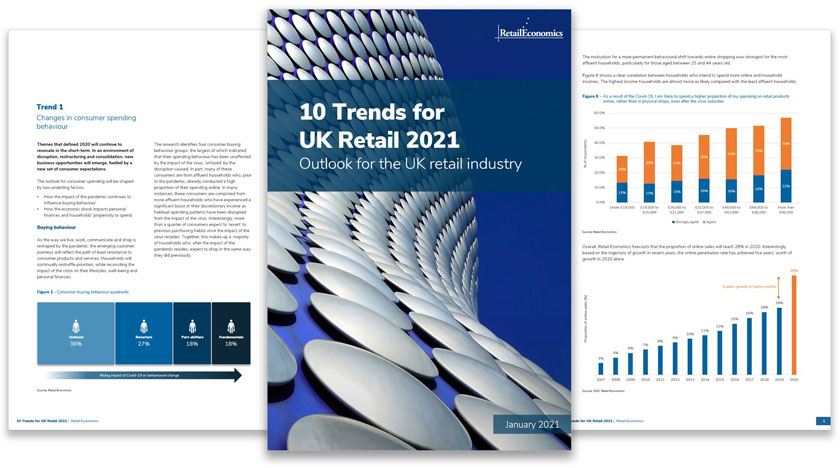 Be sure to reserve your copy now
Complete the form at the top of the page
---
Our 'Outlook for UK Retail 2021 Report' explores these opportunities and many other issues, delving into the necessary detail to help retailers (and retail-related industries) successfully navigate through these unprecedented times.
Be sure to get your free Outlook for UK Retail 2021 Report early next year as part of your FREE trial subscription. Complete the form above now...