Six key trends in UK retail transformation from Retail Week Live 2019
Retail Economics attended Retail Week Live 2019 recently, with chief executive Richard Lim chairing the General Counsel day. Retail leaders gathered to discuss how to grapple the pressures facing retail. We reflect on the key themes discussed by retailers at the two-day event.
Reinvention to remain relevant
Over the past year or so, some traditional retailers have struggled to keep their propositions relevant in a multichannel age. We've witnessed numerous retail casualties including administrations from House of Fraser, Maplin and Toys R Us.
Mandeep Singh, co-founder of Trouva (independent online boutique platform) believes lessons can be learnt from small businesses: "What's amazing about independent retailers is they're constantly reinventing themselves because they have to. They have to be better than anywhere else."
What works today may not work tomorrow, and John Roberts, founder and boss of Ao.com, sees value in questioning its pureplay model: "I fundamentally believe that the whole market will not move online, so we will get to a point where we will have to think about where we're heading. Does that mean stores? I don't know."
Meanwhile, bellwether Boots is battling disruptors such as Allbeauty and Birchbox in the Beauty category. Boots chief executive Seb James says: "To make Boots the place you choose for Beauty, we are going to need radical change. Women are no longer loyal to one brand."
Using data to personalise experiences
James continues: "We are creating – with our extraordinary bank of data – a unique and personalised experience; a process that will happen over the course of this year. I aim to be the global leader in this Beauty personalisation space within a year of today."
Retailers are still trying to discover ways to harness data to deliver truly personalised experiences. Arcadia chief digital officer Andy Harding concludes that "retail is behind the curve in terms of data capabilities".
And while Shop Direct group chief executive Henry Birch says they're ahead of the game in terms of personalisation, he concedes that "we have a huge amount to go".
Birch said: "Looking in the future, the harnessing of data and making personalisation a reality is where we're going to focus on, but I think the rest of the industry is heading in that direction too."
Reshaping stores to complement online
A number of middle market retailers are burdened with too many stores. Consequently, the rise of online ultimately means that shoppers can be served through fewer shops.
While several retailers have succumbed to CVAs to drastically reduce networks, the role of the store comes abruptly into question.
Birch believes: "High street retail will never vanish, but it will need to move from transactional to experiential. Retail is part art and part science. The art bit needs to come from bricks-and-mortar, as we are clearly nailing the science bit online."
Stores and online are not exclusive though. Sainsbury's zone managing director Darren Sinclair says: "I think it's about getting a quality of offer across [to shoppers]. It has to work with online and retailers need to make stores more meaningful."
To this end, 'retail theatre' matters. Urban Outfitters global executive director of retail Claire Arksey points out that "people will come to stores for experiences – whether that's music, talks, panels, workshops – it's somewhere to hang out".
Ultimately, stores can create a halo effect for online sales, with Cath Kidston commercial director Sue Carvell finding that: "When you open more stores, it impacts both online sales and brand awareness."
Organisational barriers
Investment in multichannel experiences are often bridled by legacy systems and rigid structures.
Carvell believes: "You need to make sure teams don't see [sales and operations] as 'online' and 'offline'. We measure non-transactional activity in-store, including click-and-collect."
Moonpig managing director Nickyl Raithatha points out that: "Every team has to be fully integrated and bought into the [technology] strategy with objectives shared across the company."
Kurt Geiger logistics director Giuseppe Guillot says: "The challenges of getting on and offline together – beside legacy systems – is culture. Traditional retailers have really rigid structures."
This also requires the rethinking of traditional P&L by channel. Guillot continues: "It's not necessary for fulfilment to be profitable. Amazon is where it is by being loss-making. What matters is total costs."
Skills shortage
There is a general lack of tech-talent in retail however, forcing retailers to recruit from outside the industry and invest heavily in training.
N Brown has invested in digital skills company Code Nation to train its staff. N Brown chief information officer Adam Warne says that "in 12 weeks it can take someone with no skills in digital to roughly graduate level".
The shopping group also visit schools and colleges to discuss digital opportunities in retail. Warne concludes: "We need to look differently at the market when recruiting talent."
The elephant in the room
Lack of Brexit clarity remains a weight on retail's shoulders and is probably best summarised by Waitrose managing director Rob Collins: "Brexit is frustrating. I believe there's considerable pent up demand waiting to be released. Now it's time to see Brexit as an opportunity and not a threat. We must ensure our food and agriculture remains second to none."
With a broad range of topics covered at the event, one thing however is clear: retailers cannot afford to hold back investment to reinvent stores that deliver personalised digital experiences which marry online and offline channels.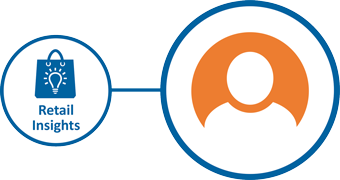 Why get a FREE TRIAL?
It's free for 30 days
Download a great selection of reports
No obligation
No credit card details
Cancel at anytime
No hassle
Excel with our RETAIL INSIGHT
START MY FREE TRIAL >