RICS Residential Market Survey November 2020
The uplift in the residential housing market continues according to the latest RICS Residential Market Survey, but shows some loss of steam as the end of the stamp duty reduction in March 2021 nears.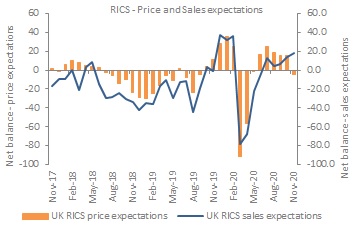 Source: RICS
Half a year of rising buyer and seller activity
RICS reported that a net balance of +27% of estate agents saw a rise in new buyer enquiries in November as opposed to a fall – down from a peak of +75 in July.
New properties being listed for sale continued to increase, with a net balance of +16% of surveyors reporting a rise.
Newly agreed sales continued to rise with a net balance of +25% seeing an increase in transactions in November. Some areas such as the West Midlands, East Midlands and Scotland have begun to see a flatter trend, with the latest readings falling out of positive territory.
Upward pressure on prices
A net balance of +66% of surveyors reported that prices rose in November – broadly unchanged from +67% in the previous month. House prices rose across nearly all parts of the UK, with Wales and the South West of England showing exceptional strength.
London is facing a soft net balance at +9%, compared to a national net balance of +76% when London is excluded.
Sales expected to level out
Agents expect transaction levels to level out in the short term. A net balance of -4% of agents anticipate a decline, down from +15% in October.
Pessimism grows at the 12-month view, with a net balance of -21% expecting a weakening in sales, as rising unemployment is expected to weight on the housing market. But this marks an improvement on recent months.
A balance of +13% envisage prices to continue to rise over the coming quarter. Price expectations for the year ahead strengthened in November, with a net balance of +20% expecting an uplift, from 8% in the previous month.
London rentals still under pressure
In the lettings market, tenant demand was broadly unchanged in November. The volume of landlord instructions continued to soften with a net balance of -19% of survey participants noting a decline.
Rental growth expectations at a national level over the near term remain positive, with London as an exception seeing a balance of -63% of respondents expecting rents in the capital to fall over the next three months.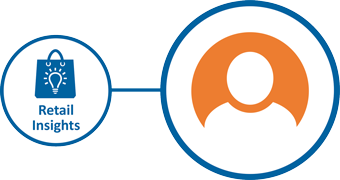 Why get a FREE TRIAL?
It's free for 30 days
Download a great selection of reports
No obligation
No credit card details
Cancel at anytime
No hassle
Excel with our RETAIL INSIGHT
START MY FREE TRIAL >