RICS Residential Market Survey January 2021
The latest RICS Residential Market Survey shows 2021 began with a noticeable reversal in sales market activity, with enquiries, sales and new instructions falling for the first time since May 2020. Although estate agents are permitted to remain open, the third national lockdown and concerns around the pandemic are deterring potential buyers and vendors.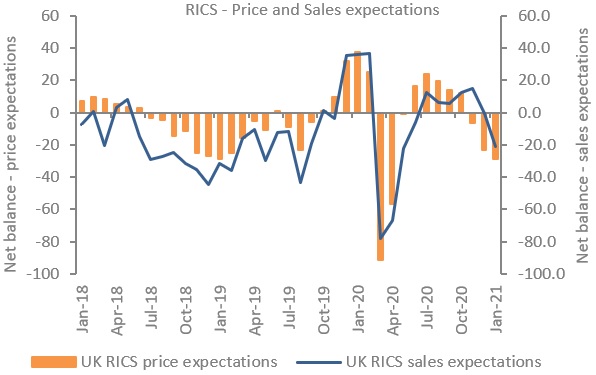 Source: RICS
Sales activity turns negative
RICS reported that a net balance of -28% of estate agents noted a decline in enquiries over January. This follows seven consecutive months of positive readings and suggests a noticeable drop off in demand at the start of the year.
The number of new property listings (net balance of -38%) and market appraisals (net balance of -26%) also declined in January. Prior to this, new instructions had risen in every month since restrictions eased during the first national lockdown in May 2020.
Respondents cited a fall in newly agreed sales during January, with a net balance of -18%, compared to +15% in December. On a regional basis, agents in the East Midlands, South West and Yorkshire & Humber reported the strongest declines for the month.
Prices head higher for the time being
A net balance of +50% of survey respondents saw an increase in house prices in January signalling continued upward pressure, despite the slowdown in market activity indicators.
This is not surprising as the survey's measure of price growth usually lags the market activity indicators, suggesting house prices will lose momentum over the coming months.
Virtually all UK regions showed house prices rising firmly in January. London is the only exception, where a net balance of -9% of respondents noted a fall in house prices during January – the capital's first negative reading for price growth since July 2020.
Uncertain Outlook
Looking ahead, near term sales expectations remain subdued across the UK, coming in at -29% in January (down from -23% in December). There is uncertainty around the twelve-month outlook which returned a relatively flat reading of -4%.
In terms of house prices, a net balance of +30% of agents anticipate prices will rise over the year ahead. This is up slightly on December's figure of +24%, suggesting that the Covid-19 vaccination programme and expected economic rebound is generating some optimism around house prices in 2021.
All UK regions are expected to see prices rise to some extent over the next twelve months, with respondents in Scotland, Wales and Northern Ireland anticipating the strongest price growth.
Rental demand moderating
In the lettings market, a net balance of +12% of respondents cited a rise in tenant demand in the three months to January. The pace of demand growth is clearly softening, while the number of landlord instructions fell for the second three-month period in succession.
Near term rental growth expectations at a national level saw a marginally positive net balance reading of +12%.
London again is a notable exception, where a net balance of -43% of participants foresees rent declines over the next three months, as the city continues to see demand suffer from more people working remotely.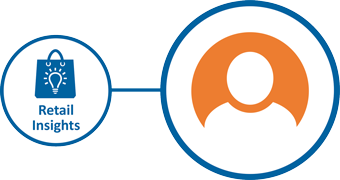 Why get a FREE TRIAL?
It's free for 30 days
Download a great selection of reports
No obligation
No credit card details
Cancel at anytime
No hassle
Excel with our RETAIL INSIGHT
START MY FREE TRIAL >