RICS Residential Market Survey December 2020
The latest RICS Residential Market Survey continues to point to rising activity, with indicators on enquiries, sales and new instructions all remaining positive. The market is losing momentum however, with near term expectations for house prices and transaction levels turning negative amid the latest lockdown restrictions and upcoming expiry of the Stamp Duty holiday in March 2021.
Activity remains strong (for now)
RICS reported that a net balance of +15% of estate agents saw an increase in enquiries during December. While still a positive indicator of demand, this is down from +26% in November and represents the fifth consecutive month of deceleration.
New properties being listed for sale continued to pick-up, with a net balance of +7% of surveyors noting a rise. The net balance for the number of appraisals being undertaken in December increased by the same amount (+7%).
Newly agreed sales came in with a net balance reading of +18% in December, compared to +24% in the previous month. All UK regions reported a positive reading, although growth has clearly softened since the Autumn (during which the net balance hit a high of +60%).
Sustained price rises
A net balance of +65% of surveyors cited a rise in house prices in December. The national net balance has remained in a tight band between +61% and +65% since September, signalling sustained upward pressure on UK house prices.
The North West and Wales saw the strongest price growth based on survey respondents.
London is the only region where house price inflation appears more muted, with the latest net balance for the capital recorded at just +7% (down from +13% the previous month)
Near term outlook deteriorating
Transaction levels are expected to cool over the coming months due to renewed economic pressures induced by the pandemic. Near term sales expectations slipped further in December to post a net balance of -22% - the weakest reading since April 2020 during the first wave of Covid-19.
House price growth is also expected to lose momentum over the short term. Three-month price expectations fell markedly in December, returning a net balance of -13% at the national level.
There is more optimism at the 12-month view, with a net balance of +24% of respondents anticipating national house prices to be higher in a year's time. Hopes of a successful vaccination rollout and rebound in economic activity over the second half of 2021 underpin this positive outlook.
Rental market resilient outside of London
In the lettings market, a net balance of +15% of respondents saw tenant demand pick up in December. However, the volume of landlord instructions continued to dwindle, with a net balance of -12% of survey participants noting a decline.
Rental growth expectations at a national level strengthened slightly in December. All parts of the UK envisage rents rising over the next three months due to a shortage in supply. London is a notable exception, where a net balance of -47% of participants expects rent declines, as the capital continues to see a drop in demand because of more people working remotely.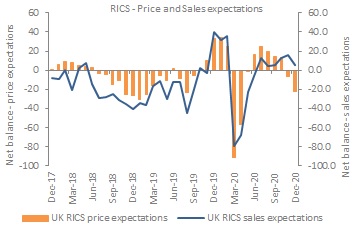 Source: RICS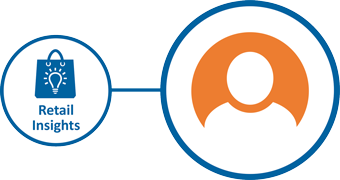 Why get a FREE TRIAL?
It's free for 30 days
Download a great selection of reports
No obligation
No credit card details
Cancel at anytime
No hassle
Excel with our RETAIL INSIGHT
START MY FREE TRIAL >