Retail sales momentum remains strong in April
Retail sales values non-seasonally adjusted rose by 0.8 per cent in April, according to the Office for National Statistics. The timing of Easter, falling in April last year against March this year, has distorted growth this month and so focusing on the three month rolling average is a better indication of underlying demand. Nevertheless, this was the 25th consecutive month of year-on-year growth, the longest period of sustained growth since May 2008 when there were 31 periods of growth. The underlying pattern in the data, as suggested by the three month on three month movement in the quantity bought, continued to show growth for the 26th consecutive month, increasing by 0.7 per cent. This is the longest period of sustained growth since consistent records began in June 1996.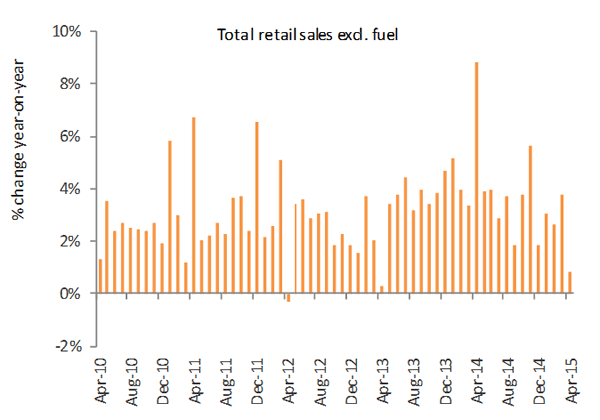 Source ONS
We still view Food as the sector most under pressure and estimate that sales values fell in the region of 4.9 per cent in April. This dragged overall growth down to just 1.0 per cent for April, year-on-year. Non-food continued to perform strongly across the board.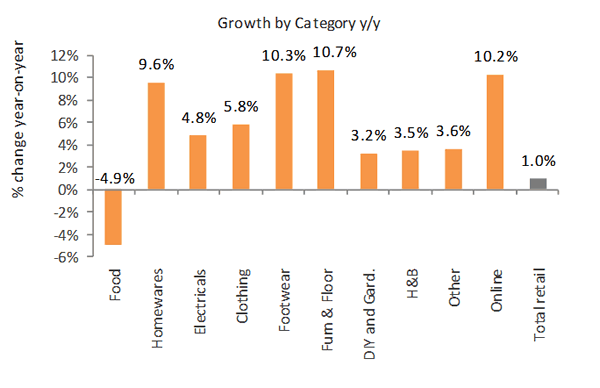 Source Retail Economics Index
The warmer weather kicked off stronger spending in fashion, with the Footwear category up by an estimated 10.3 per cent. Clothing +5.8 per cent also showed strong growth. Furniture and Flooring also saw robust growth on the back of rising footfall in out-of-town locations, according to Springboard, and a healthier appetite for big-ticket purchases, supported by growth in demand for credit.
It would appear that stronger underlying fundamentals are beginning to shine through to additional spending. Real wage growth has continued to gather pace, the latest data suggesting a nominal rise of 2.7 per cent, while prices are now falling for the first time since 1960. The labour market continues to strengthen unemployment is now at just 5.5 per cent, the lowest since June 2008. The appetite and availability of credit is rising, which credit card lending growth up 5.7 per cent year-on-year and net unsecured borrowing up 6.9 per cent.
Admittedly, deep and widespread discounting and promotions on the high street are driving sales which, in many cases, are at the expense of profit margins for many retailers. The implied retail sales deflator fell by 3.2 per cent in April, year-on-year, demonstrating the highly competitive environment. While deflation is clearly not causing consumers to delay their purchases, as some economists had warned, it is putting pressure on retailers margins. Indeed, the BRC-Nielsen Shop Price Index suggests that the retail sector has been deflationary for over two years clearly, consumers are accustomed to deep discounting and promotions.
We remain positive on the outlook for the UK retail sector and feel that, now the General Election has been settled, consumers will begin to relax the purse strings a little more in the coming months. Households are still benefitting from a sharp falls in the price of energy, food and transport. Given these components of the consumer basket are relatively price insensitive, we expect this windfall to benefit discretionary areas the most such as electricals and some household purchases. This months growth, in the graph above, suggests that this incremental boost in income is finally beginning to filter through to the retail sector.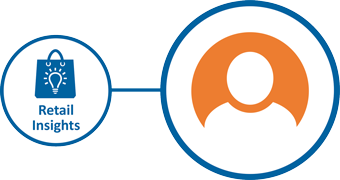 Why get a FREE TRIAL?
It's free for 30 days
Download a great selection of reports
No obligation
No credit card details
Cancel at anytime
No hassle
Excel with our RETAIL INSIGHT
START MY FREE TRIAL >