Retail sales in July held steady by strong performance of Furniture, Homewares and Footwear
Retail sales values (non-seasonally adjusted values and excluding fuel) rose by 1.9 per cent in July, according to the Office for National Statistics (ONS). In volume terms, growth continued for the 28th consecutive month and rose by 4.2 per cent year-on-year. The three month on three month metric, which gives a better indication of the underlying strength of sales, rose by 0.5 per cent which marks the longest period of sustained growth since records began in June 1997.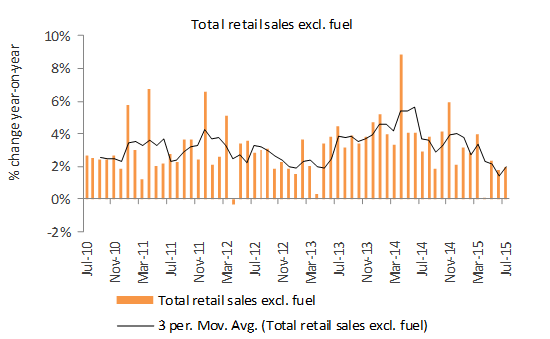 Source: ONSThe equivalent measure from the BRC-KPMG Retail Sales Monitor (total retail sales values) showed growth of 2.2 per cent in July. The differences between the ONS and BRC measures have narrowed in recent months and now paint broadly the same picture. For large retailers, the ONS estimated that sales rose 2.1 per cent compared with small retailers which grew by 1.2 per cent. This is the first time small retailers have shown growth for five months.Retail Economics estimates that total retail sales rose by 1.6 per cent in July, held back by the continued tough trading conditions in the Food sector. Intense competition from the discounters (Aldi and Lidl) and rapidly changing consumer habits have kept prices deflationary which is subsequently holding back any top line growth. We believe that the industry will become increasingly polarised in the coming 12 months with the Food sector continuing to struggle and Non-Food gaining strength. Competition within Food will intensify and targeted promotions on prices will curtail top line growth. For Non-Food, household's positive backdrop of low inflation, rising real wages, near record levels of employment and buoyant consumer confidence will boost growth in the coming months. Stronger performance in the housing market through rising mortgage approvals and an increase in remortgaging are helping to support the Home category. Homewares (+10.9 per cent) and Furniture and Flooring (+11.9 per cent) had another strong month in July, building on 12 months of strong underlying demand. Consumer confidence, a crucial variable for demand in this category, remains at near 10-year highs.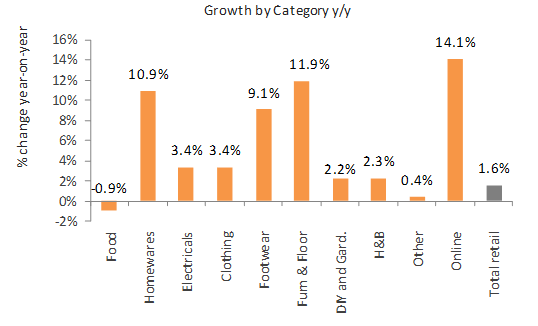 Source: Retail Economics IndexClothing (+3.4 per cent) and Footwear (+11.9 per cent) also performed strongly. However, the earlier timing of summer promotions, in June instead of July, is likely to have shifting some spending forward and so dampened July's growth. Footwear sales remain robust and some anecdotal evidence suggests that stronger momentum is being driven by new trends rather than seasonal demand or weather-driven effects. Omnichannel retailers are benefitting from past investment and are driving a high proportion of their sales online. The BRC estimated that 27.9 per cent of footwear sales were online in July compared with 22.9 per cent this time last year. Click and Collect is a key force driving online purchases as consumer can determine when and where they would like to pick up their purchases (usually for free) while retailers encourage this behaviour to cut down on delivery costs and try to inspire impulse purchases when customers are in-store.
Footfall
The latest data from Springboard suggests that total footfall was down 1.1 per cent in July, year-on-year. Shopping centres performed the worst with footfall estimated to decline by 2.5 per cent year-on-year. High Streets did not fare much better with a decline of 2.2 per cent, continuing the overall trend of declining visitor numbers in traditional shopping locations. Retail Parks saw growth of 3.1 per cent year-on-year, the 19th consecutive month of positive growth. Using a three-month rolling average, to smooth out volatility, suggests that retail parks continue to outperform all other physical channels of retailing. The continuous reinvention of many retail parks to bring a greater mix of leisure and experiences in addition to retail is driving footfall to these locations. Home retailers have benefited from higher levels of footfall from a greater leisure and restaurants mix, supported by higher levels of spending in recreation and culture.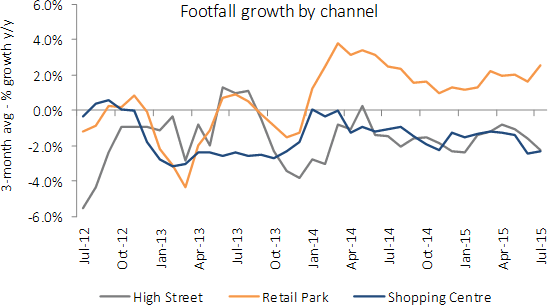 Source: SpringboardThis is supported by other data like the Coffer Peach Tracker (measures around 30 businesses in restaurant and leisure) which has consistently outperformed retail sales growth. The latest numbers for June showed restaurant sales were up 3.6 per cent like-for-like against the BRC's figure for 1.8 per cent during the same period.Just one third of consumer spending goes through retail and the growth of Recreation and Culture and Transport (including new and second hand cars) is critical trends in retail spend.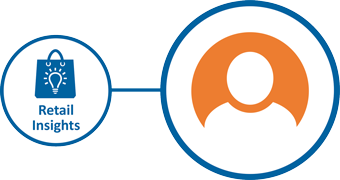 Why get a FREE TRIAL?
It's free for 30 days
Download a great selection of reports
No obligation
No credit card details
Cancel at anytime
No hassle
Excel with our RETAIL INSIGHT
START MY FREE TRIAL >