ONS Retail Sales April 2021
Retail sales (value, non-seasonally adjusted, excluding fuel) surged 35.7% year-on-year in April against an 18.7% decline last year according to the latest ONS data, reflecting the reopening of non-essential retail in the month against lockdown last year.
In volume terms, retail sales increased by a substantial 37.7% in April on the previous year (seasonally adjusted, excluding fuel), and rose 9.0% compared to March.
Retail sales (volume, seasonally adjusted) – 3-months on previous 3-months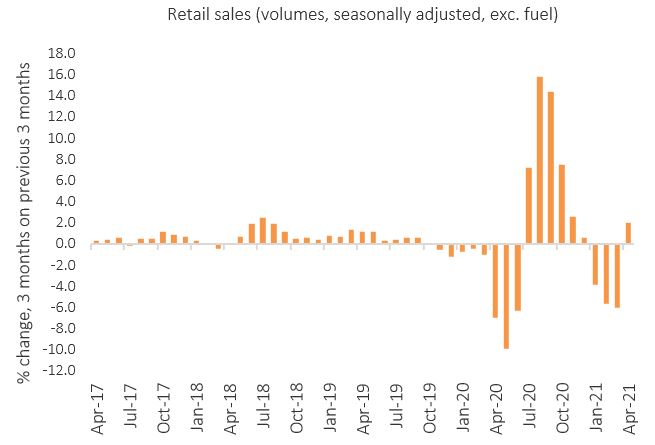 Source: ONS
As non-essential shops reopened from 12 April, pent up demand saw non-food stores provide the largest contribution to the monthly growth in sales volumes, driven by clothing stores.
Food retailers were impacted by the reopening of hospitality outdoors, as well as the reopening of clothing and home-related shops. Food retailers saw sales slip 0.9% in April compared to the previous month (volume, seasonally adjusted), but remain well ahead of pre-pandemic levels, with sales in April 8.6% higher than in February 2020.
The ONS noted that all categories reported a month-on-month softening of online sales as physical stores reopened. Online sales (non-seasonally adjusted, excluding automotive fuel) rose by 31.6% year-on-year in April against a 34.2% rise a year earlier – slowing on the 62.1% uplift in March.
The proportion of retail sales made online continued to decline from 32.8% in March to 29.4% in April. This is below the 30.3% online accounted for in April 2020.
The retail sales deflator (a measure of inflation specific to retail) excluding fuel edged up by 0.4% compared to last year, and rose 1.0% when including fuel.
The implied price deflator among food stores inched up 0.3% year-on-year, and rose by 1.2% among non-food stores.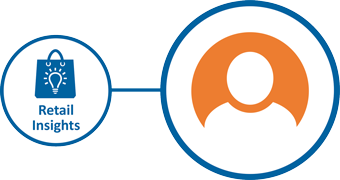 Why get a FREE TRIAL?
It's free for 30 days
Download a great selection of reports
No obligation
No credit card details
Cancel at anytime
No hassle
Excel with our RETAIL INSIGHT
START MY FREE TRIAL >