Nielsen/Kantar Grocery Market Share September 2019
Four & 12 weeks to 7/8 September 2019
Grocery sales growth rose in the four weeks to 7 September, up 2.2%, year-on-year, according to the latest figures from Nielsen. The heatwave over the late Bank Holiday weekend in August supported sales growth with barbecue equipment proving popular with consumers reporting an uplift of 127%.
Interestingly, over half of the additional £193m spent this year (compared with the same period in 2018) was at discounters and high street value retailers, supporting the ongoing trend of heightened consumer caution. Popular categories included pre-mixed alcoholic drinks (+32%), suncare (+26%), ice cream (+17%), soft drinks (+5.1%), frozen food (+4.1%) and beers, wine and spirits (+3.3%).
Over the last 12 weeks, three of the top four supermarkets reported a decline in sales growth, with Morrisons remaining the weakest performing (-1.8%) followed by Tesco (-1.2%) and Asda (-0.7%). Outside of the top four, Waitrose was the only other supermarket to report a fall in sales growth (-1.2%). Notable rises were once again seen in the leading discounters with Lidl (+12.2%) and Aldi (+8.7%) significantly outperforming the market.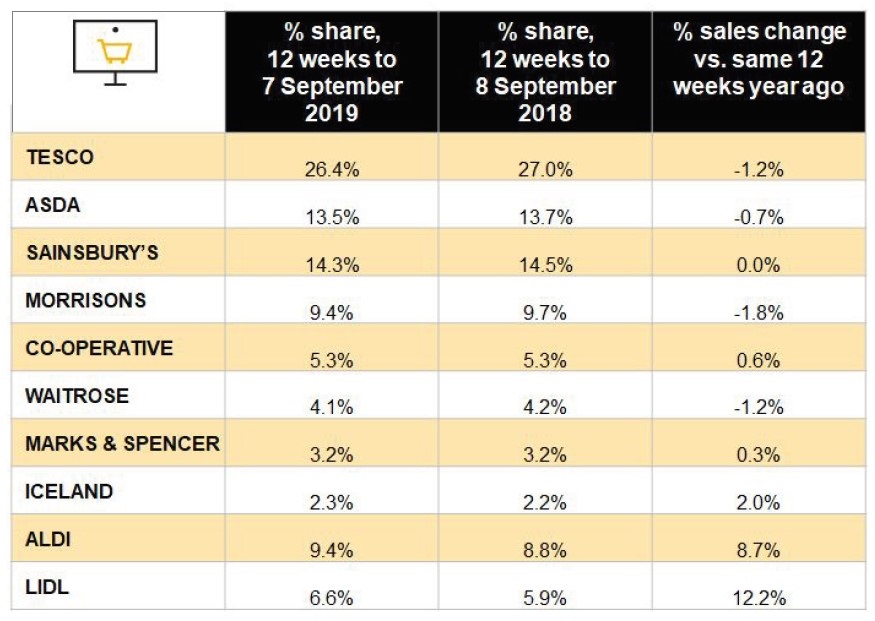 Source: Nielsen Homescan Total Till
12 weeks to 7 September 2019
A separate survey from Kantar Worldpanel covering the 12 weeks to 8 September showed that:
Supermarket sales rose 0.5%, year-on-year, during the 12-week period
Households bought 0.9% fewer items during the past 12 weeks than they did last year
Shoppers spent £1.3bn over the Bank Holiday weekend (Friday through to Sunday)
An additional 618,000 shoppers visited Lidl compared with last year
Aldi's sales growth was strongest in the south of England where sales increased by nearly 9%
One third of British households made a trip to the Co-op during the past three months
Sales at Ocado were up by 12.7% with ice cream, cheese and sparkling wine all experiencing growth in excess of 20%
Grocery inflation is rose by 1.0% in the 12-week period.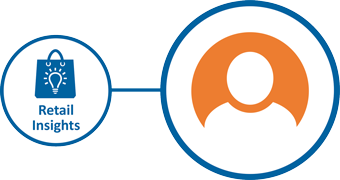 Why get a FREE TRIAL?
It's free for 30 days
Download a great selection of reports
No obligation
No credit card details
Cancel at anytime
No hassle
Excel with our RETAIL INSIGHT
START MY FREE TRIAL >