Is consumer spending about to lose steam?
Consumer spending has grown strongly over the last three years with the underlying backdrop for households supported by strong employment growth, record-low interest rates, low levels of inflation and rising real incomes. In addition, healthier levels of confidence have supported rising demand for borrowing, reflected in a declining savings ratio, giving a significant boost to real consumer spending growth. However, a number of these supportive measures are beginning to unwind and there are some darker clouds forming on the horizon. For one, employment levels are at record highs and, according to the Bank of England, with the unemployment rate at 5.1 per cent, the economy is nearing "full employment". The rate of jobs growth will inevitably slow further in the coming months and the creation of new jobs cannot be relied on to boost consumer demand. Further, real income growth remains disappointing and despite the labour market tightening, wage growth has not accelerated as fast as many had expected. As a result, much of the pick-up in spending has been supported by credit and households saving less. The most recent data suggests that the Household Savings Ratio fell to 3.8 per cent in Q4 2015, the lowest in over 10 years. With the savings ratio already at low levels, there is limited scope for further reductions. Further, inflation is also expected to creep up this year. Our current forecasts suggest it will reach 1 per cent by the end of 2016. Despite the slow expected trajectory, the rise will still erode disposable incomes after a year when prices fell and deflation grabbed the headlines and boosted consumers' spending power. The impending EU Referendum appears to be weighing on the minds of consumers. Consumer confidence has weakened in recent months and currently resides at a 15-month low. Consumers perceptions about the general economic condition over the next 12 months have taken the biggest knock. Consumers are now more pessimistic about the future of the economy than at any time over the last three years.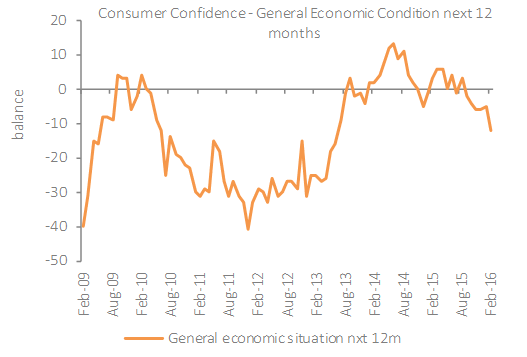 Source: GfKHowever, we're not too concerned with a collapse in consumer spending, rather conscious that 2016 is going to be more challenging than the previous year. Renewed austerity measures will not begin in earnest until next year which will help support current spending. Importantly, core inflation remains at very modest levels and so interest rates are unlikely to rise this year. Providing Britain remains in the EU, the more likely outcome according to recent polls, consumer confidence and thus spending will regain momentum in the second half of the year. Nevertheless, there are likely to be some choppier waters to navigate in the meantime.
Consumer spending in detail
The final estimate of GDP suggests that output rose by 0.6 per cent in the fourth quarter compared with the previous quarter, revised up by 0.1 percentage points. Since the financial crisis, there has been growth across all major components of GDP, however, the service industries remains the largest and steadiest contributor to overall economic growth. It is also the only headline industry in which output has exceeded pre-downturn levels.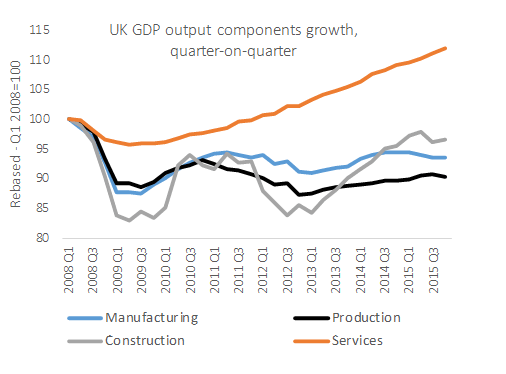 Source: ONS, Retail Economics analysisOn an annual basis, growth has remained positive since Q3 2011 and has been broad-based across both goods and services. While durable and semi durable goods were the predominant driver of growth in recent periods, the contribution of non-durable goods, such as Food, has been positive in the last four quarters.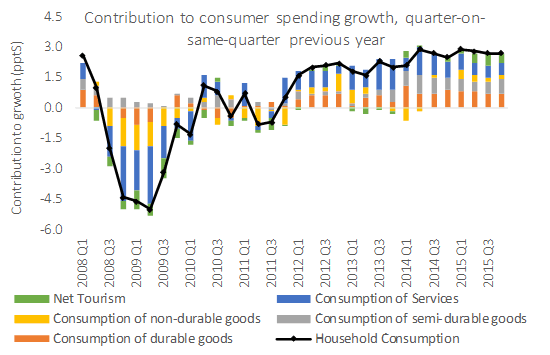 Source: ONS, Retail Economics analysisOn a quarter-on-quarter basis, consumer spending rose by 0.6 per cent in the fourth quarter of 2015 and has increased for 10 consecutive quarters. When compared with the same quarter a year ago, consumer spending has been rising each quarter since Q4 2011, and was 2.7 per cent higher in Q4 2015 than in the same period a year ago.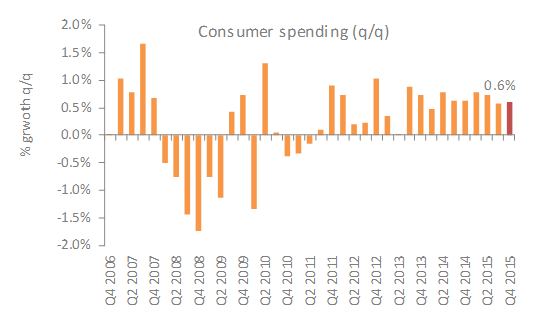 Source: ONSThe fastest growing components of consumer spending included Recreation and Culture (+6.5 per cent yoy), Furniture and Household (+6.5 per cent), Health (+6.2 per cent) and Clothing and Footwear (+4.6 per cent). The food sector continued its recovery and was up 1.6 per cent in Q4 2015, the third consecutive quarter of growth and the fastest since Q3 2013.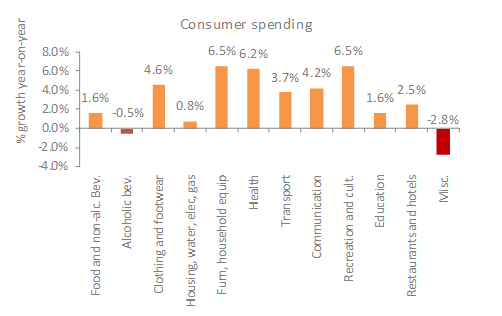 Source: ONSThe drivers behind consumer spending have been mixed, supported by growth in wages, business profits and mixed income and benefits.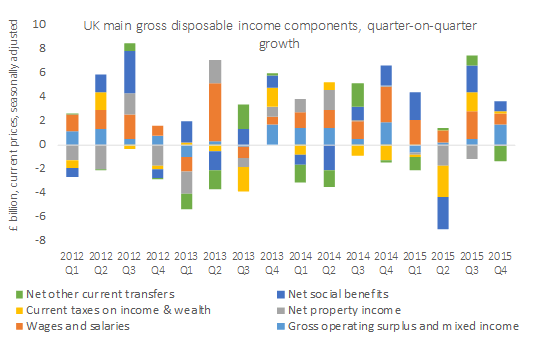 Source: ONS, Retail Economics analysisHowever, there continues to be a strong appetite for borrowing and the Household Savings Ratio fell to 3.8 per cent in the fourth quarter of 2015, the lowest in over 10 years.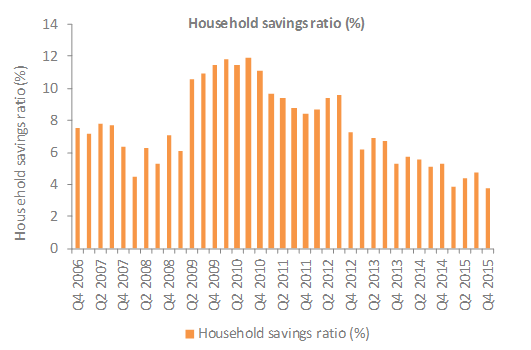 Source: ONSThe decrease in the saving ratio in 2015 reflects rises in consumption expenditure, taxes on income and wealth and a fall in net property income, which are partially offset by rises in wages and salaries, gross operating surplus and mixed income.Net household borrowing rose by £4.9 billion in February, compared with a rise of £5.4 billion in January. This meant that total household borrowing rose by 3.7 per cent, year-on-year, the highest since the financial crisis.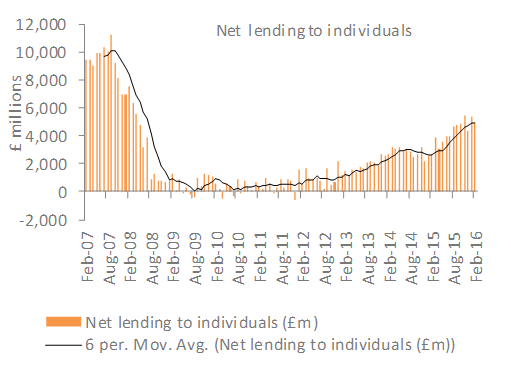 Source: Bank of EnglandMortgage approvals drove the lion's share of the increase. There was a sharp increase in the number of buy-to-let mortgages as investors rushed to complete before they are subject to higher rates of stamp duty, effective from April.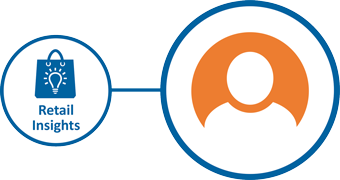 Why get a FREE TRIAL?
It's free for 30 days
Download a great selection of reports
No obligation
No credit card details
Cancel at anytime
No hassle
Excel with our RETAIL INSIGHT
START MY FREE TRIAL >