Inflation not expected to exceed 1 per cent in 2016
The Consumer Price Index (CPI) was positive for a fourth consecutive month in February with prices rising 0.3 per cent, year-on-year – unchanged on the previous month. Consensus expectations suggested a small rise to 0.4 per cent.The largest downward contribution came from the transport sector, from price changes for items such as road passenger transport, second-hand cars and bicycles. Rising food prices, particularly for vegetables, offset this downward pressure.Oil prices were more than a third lower, in sterling terms, than a year earlier. Combined with slowing global demand, the appreciation of sterling since early 2013 has pulled down on import prices.The scale of recent commodity price falls suggests that inflation is likely to remain below 1 per cent until the end of the year and our central forecast remains unchanged. As downward pressure from energy and other imported goods unwind, domestic cost pressure will build and inflation will rise - albeit, gradually. The depreciation of sterling, however, may mean that import prices rise more sharply, although the future trajectory is heavily dependent on the future of Britain's role in the EU.
Falling retailer' costs beginning to slow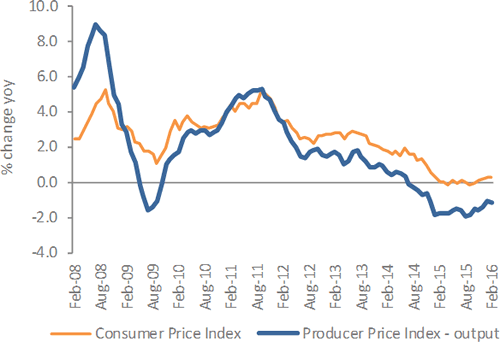 Source: ONSAs the impact of lower oil prices and the appreciation of sterling annualises, the decline in factory gate prices has begun to slow. The latest Producer Price Index showed deflation of 1.1 per cent in February, easing from deflation of 1.9 per cent six months earlier. ONS Food remained deflationary at 2.4 per cent, although the decline has eased from the 12-month rolling average of -2.7 per cent. Retail Economics estimates that Footwear saw the sharpest deflation in February (-3.5 per cent), followed by Clothing (-3.3 per cent) and Food and Drink (-2.4 per cent).Overall, the outlook for inflation remains weak. Domestic gas prices are still expected to fall around 5 per cent by the spring while energy prices will remain stable. The turn-out of whole-economy unit labour costs remains weaker than expected while inflation expectations are well anchored within the 2 per cent target. Interest rates are expected to remain at current levels until the end of the year before rising to 1.1 per cent by 2019.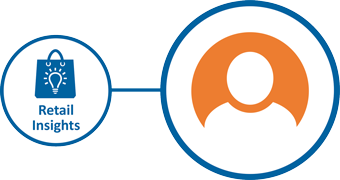 Why get a FREE TRIAL?
It's free for 30 days
Download a great selection of reports
No obligation
No credit card details
Cancel at anytime
No hassle
Excel with our RETAIL INSIGHT
START MY FREE TRIAL >