GfK Consumer Confidence - February 2020
Confidence rose for the third successive month, with GfK's Consumer Confidence measure increasing by two points to -7 in February – the highest level since August 2018.
Three out of the five components in the measure improved in the month. Consumers feel more positive about the general economy on the back of low unemployment, rising wage growth and stable inflation. However, consumers displayed some concern when reflecting on their recent personal finances.
Despite this, GfK's Major Purchase Index rose five points to reach its highest level since July 2019.
One upside risk to confidence next month could be the persistence of the coronavirus. Indeed, research from Retail Economics suggests that if the virus persists, we could see a significant knock-on impact to the retail and leisure sector. There could be a near three-fold increase in the number of consumers that avoid shopping destinations, while those who avoid restaurants and entertainment (e.g. cinema) could almost double (from 9% currently to 17% if the virus persists in the future).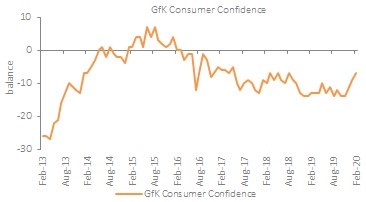 Source: GfK
General economic situation
Consumers' perceptions of the general economic situation over the last 12-months continued its improvement rising by five points to -23 in February – ten points ahead of last year.
The forward-looking component saw rose, up three points to -21, some 17 points higher than in February 2019.
Personal finances
The backwards-looking personal finances component dipped by two points to -1 in February and is one point lower than a year ago.
The forward-looking measure was unchanged at +6, which is five points higher than last year.
Major purchases
The major purchases index improved by five points to +6 in February – one point higher than a year ago.
Savings Index (not included in the overall measure)
The savings index was unchanged at +20 in February – two points ahead of last year.

Source: GfK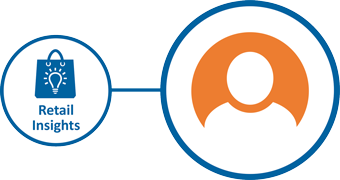 Why get a FREE TRIAL?
It's free for 30 days
Download a great selection of reports
No obligation
No credit card details
Cancel at anytime
No hassle
Excel with our RETAIL INSIGHT
START MY FREE TRIAL >