GfK Consumer Confidence: August 2019
GfK's Consumer Confidence measure dropped three points to -14 in August, which is seven points lower than a year ago. All five components in the measure fell back in the month, with consumers more pessimistic about the future prospects of their personal finances and the general economic situation.
Given this survey was carried out at the start of August, we suspect the recent political developments will further increase anxiety amongst consumers and thus we could see a further dip in the Index when September's survey is released.
General economic situation
Consumers' perceptions of the general economic situation over the last 12-months fell two points to -34 in August, eight points lower compared to last year. The forward-looking component was the weakest performing in August, falling by six points to -38 – eight points lower than in August 2018 and the weakest since the beginning of the year.
Personal finances
The backwards-looking personal finances component fell back into negative territory (-1) after a positive result in July (+1), five points lower than in August 2018. The forward-looking measure saw a five points decline to +2 in August, reversing the strong performance in July and six points lower than in the same month a year ago.
Major purchases
The major purchases index reported a decrease of three points to +1 in August, down from +6 in August 2018.
Savings Index (not included in the overall measure)
The savings index fell four points to +21 in August, four points lower than in August 2018.
Business confidence
Separate data from Lloyds Bank shows that business confidence fell 12 points in August, with its overall measure residing at 1%. This is the first decline in three months and the largest fall since February. Weakness in businesses trading prospects as well as their view on the wider economy were the main drivers.
Indeed, the balance of firms expecting stronger trading prospects for the year fell 11 points to 8% while economic optimism decreased to -5% from +6% in July. Overall confidence among retail firms dropped 11 points to +6% the weakest since the expansion of the barometer in 2018.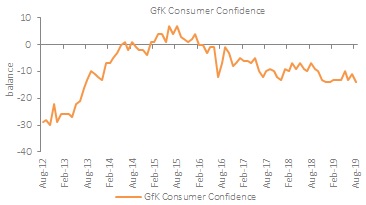 Source: GfK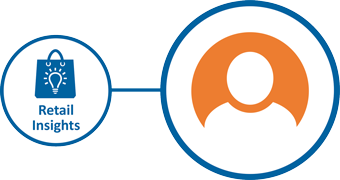 Why get a FREE TRIAL?
It's free for 30 days
Download a great selection of reports
No obligation
No credit card details
Cancel at anytime
No hassle
Excel with our RETAIL INSIGHT
START MY FREE TRIAL >