GDP Q3 2020 Preliminary Estimate
GDP rose by a record 15.5% in Q3 2020 compared to the previous quarter as lockdown measures were eased.
Compared with the same quarter a year ago, the UK economy fell by 9.6%.
Services, production and construction output all rose by record quarterly increases in Q3 2020, up by 14.2%, 14.3% and 41.7% respectively.
Despite the sharp rise, the economy is still 9.7% below its pre-pandemic level in Q4 2019. What's more, looking at the cumulative fall in the first three quarters of the year (compared to Q4 2019) suggests that the UK experienced the largest decline when compared to a group of countries. Indeed, the 9.7% fall was more than twice as large as the cumulative fall in GDP seen in Italy, Germany and France and nearly three-times the drop in the US.
Monthly GDP data suggests that growth slowed throughout the quarter. Indeed, monthly growth rose by 6.3% in July, 2.2% in August and 1.1% in September.
UK GDP, Quarter 3 2016 to Quarter 3 2020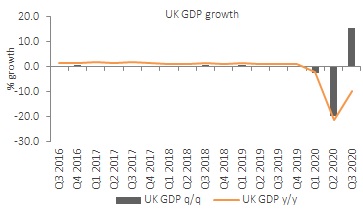 Source: ONS
Services
Services output rose by a record 14.2% in Q3 2020 on the previous quarter following a record fall of 19.2% in Q2. That said, services output remains around 10.0% lower than the level seen at the end of Q4 2019.
The sharp rise in services output was driven by wholesale and retail trade (+30.7%) and accommodation and food services (+452.6%), the former has seen output recover to levels above those recorded in Q4 2019, while the latter is still 29% below its pre-pandemic level.
Elsewhere, education, health and transportation and storage also contributed to growth in Q3.
The monthly data suggests that growth in the services sector slowed as the quarter progressed, rising by just 1.0% in September following a 2.4% rise in August.
Production
Production output rose by 14.3% in Q3 2020 on the previous quarter, following a 16.3% decline in Q2. Production output remains 6.3% below its Q4 2019 level.
Manufacturing output rose by 18.7% in Q3 2020, driven by increases in 12 out of 13 sub-sectors, notably manufacture of transport equipment. Elsewhere, output grew by 1.3% for mining and quarrying and 8.1% for electricity, gas, steam and air.
Construction
Construction output rose by 41.7% in Q3 compared with the previous quarter. That said, output remains 11.5% below the level seen in Q4 2019. The rise was driven by increases in both new work and repair and maintenance.
The recent IHS Markit UK Construction PMI suggests that new orders rose at their quickest rate since February 2020 as demand increased for home building and commercial projects.
Household consumption
Household consumption rose by 18.3% in Q3 2020, driven by higher spending on motor cars and fuel, clothing and footwear, miscellaneous goods and services and furniture and household equipment.
Household spending on services rose by 22.7% - the largest contribution to growth in household consumption in the third quarter.
Household consumer remains 12.4% below its Q4 2019 level.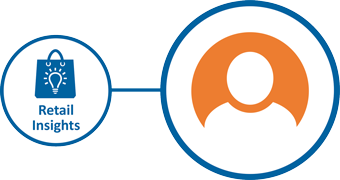 Why get a FREE TRIAL?
It's free for 30 days
Download a great selection of reports
No obligation
No credit card details
Cancel at anytime
No hassle
Excel with our RETAIL INSIGHT
START MY FREE TRIAL >