GDP Q2 2019 preliminary estimate
GDP contracted by 0.2% in Q2 2019 compared to the previous quarter – the first decline in six and a half years – as the economy came under pressure from Brexit uncertainty, car plant shutdowns and the running down of stock built up before the original Brexit deadline in March.
The monthly GDP growth rate was flat in June, while the slowdown saw the annual growth rate slip to 1.2% in Q2 2019. GDP per head declined by 0.4% in the quarter, down from the 0.4% rise in Q1 2019.
Real GDP contracted by 0.2% in Q2 2019: Quarter 1 (Jan to Mar) 2008 to Quarter 2 (Apr to June) 2019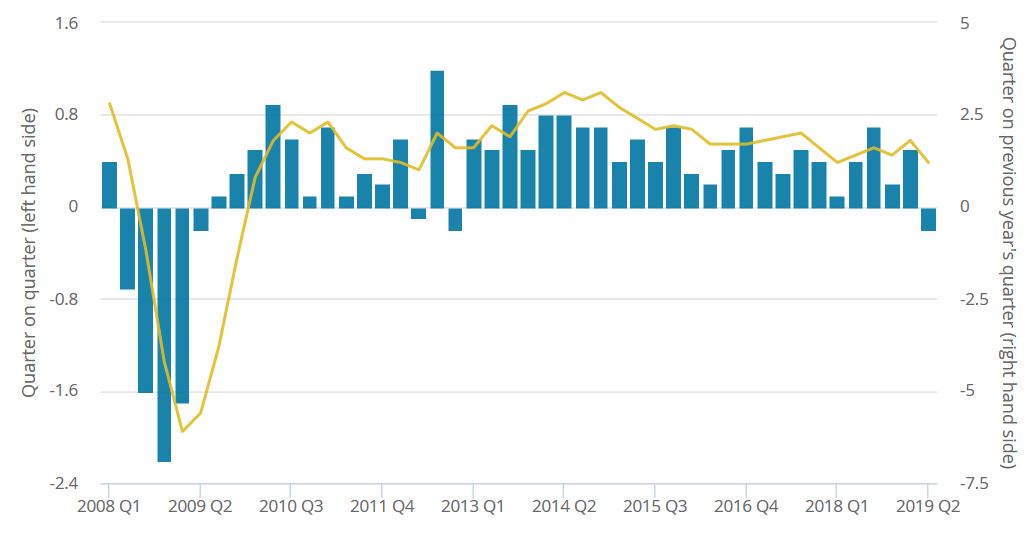 Source: ONS
Production
Production declined by 1.4% in the second quarter, driven by a 2.3% fall in manufacturing output as the manufacture of transport equipment plummeted 5.2%. This reflected the temporary shutdown of several car factories around the UK's original EU departure date.
As car factories are expected to be working at points in the summer when they would normally close, growth is likely to pick up in Q3. But lower demand for diesel vehicles and weaker sales in China are likely to drag on growth.
The manufacture of pharmaceutical, chemical and metal products also came under pressure in the second quarter from stock piling efforts in the previous quarter.
Construction
Construction output fell by 1.3% in Q2 compared to a 1.4% increase in the previous quarter, as repair and maintenance work declined by 6.0% in the period.
However, public housing new work made a positive contribution, supported growth in social and affordable housing.
Services
Services output slowed to its weakest rate in three years in Q2, with growth down to 0.1% following a 0.4% increase in the previous quarter.
Wholesale, retail and motor trades, which slowed to 0.2% in Q2. This comes on the back of sluggish business and consumer confidence as Brexit uncertainty drags on.
Growth in household consumption eased slightly to 0.5% in Q2 from 0.6% in Q1, while business investment declined by 0.5% driven by a fall in investment in buildings.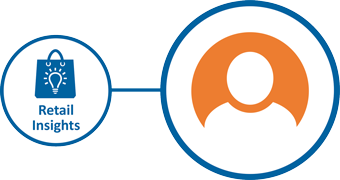 Why get a FREE TRIAL?
It's free for 30 days
Download a great selection of reports
No obligation
No credit card details
Cancel at anytime
No hassle
Excel with our RETAIL INSIGHT
START MY FREE TRIAL >