GDP Q1 2020 Preliminary Estimate
The UK economy reports it largest quarterly contraction in more than a decade.
GDP fell by 2.0% in Q1 2020 compared to the previous quarter - the largest quarterly contraction in more than a decade. This is above the Bank of England's recent forecast of a 3.0% decline.
Compared with the same quarter a year ago, growth fell by 1.6%, the weakest since Q4 2009.
Declines were seen across the services, production, and construction industries with monthly output in March falling by 5.8%, significantly impacted by the coronavirus pandemic and subsequent restrictions put in place. That said, the monthly decline was above the consensus view of a 7.9% fall.
The ONS noted that the GDP estimates for March and Q1 2020 are subject to more uncertainty than usual due to challenges experienced collecting data during the pandemic. Further analysis can be found here.
UK GDP, Quarter 1 (Jan to Mar) 2008 to Quarter 1 (Jan to Mar) 2020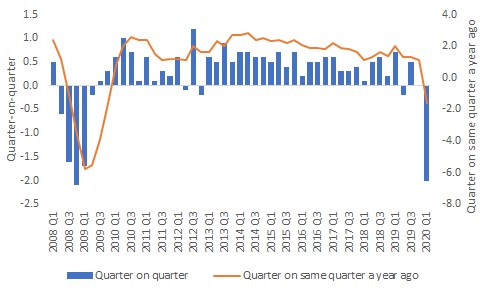 Source: ONS
Services
Services output fell 1.9% in Q1 2020 on the previous quarter – the largest fall on record. This was driven by a sharp monthly decline in March of 6.2%.
On a quarterly basis, notable declines were seen in accommodation and food services (-9.5%), transportation and storage (-4.9%), wholesale and retail trade (-3.0%) and education (-4.0%). At the other end of the spectrum there was a 1.4% rise in the output for computer programming, driven by increased demand for remote working.
Looking at the monthly data in a bit more detail suggests that 13 of the 14 sectors within the Services index reported a decline in output.
Index of Services, main sectors, month-on-month growth, seasonally adjusted, UK, March 2020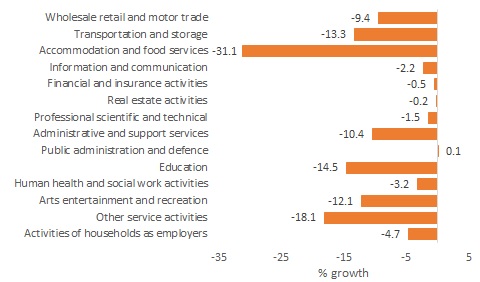 Source: ONS
Wholesale, retail and motor trades fell by 9.4% in March, the largest monthly fall since records began in January 1997. This was driven by new car registrations which typically experience large growth between February and March which was absent this year. This resulted in a 34.2% decline in output within this industry.
The retail industry fell by 5.1% in March 2020, the largest fall since retail sales records began in January 1996. Food stores and non-store retailing were the only sectors to show monthly growth in March 2020.
The accommodation and food services industry reported a decline of 31.1% in March 2020 as many businesses were required to temporary close due to the coronavirus pandemic.
Monthly growth between February and March in turnover for food and beverage services, UK, non-seasonally adjusted data¹, March 2008 to March 2020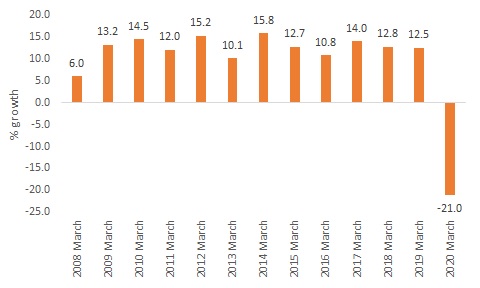 Source: ONS
Production
Production output fell by 2.1% in Q1 2020, driven by the 4.2% monthly decline in production output in March, reflecting falls in all four sectors.
Manufacturing output fell by 1.7% in Quarter 1 2020, driven by decreases in the manufacture of transport equipment, machinery and equipment not elsewhere classified, and textiles. This was offset somewhat by increases in the manufacture of pharmaceutical, chemical and wood and rubber and plastic products.
Construction
Construction output fell by 2.6% in Q1 compared with the previous quarter with declines reported in both February and March. Indeed, in February output fell by 2.1% due to poor weather, followed by a 5.9% decline in March as labour availability was affected by containment measures.
The quarterly fall reflects declines in both new work, and repair and maintenance.
Recent data from the Bank of England's Summary of Business Conditions report pointed to evidence of "projects being postponed, either due to economic uncertainty or because of delays caused by planning office closures".
Household consumption
Household consumption fell by 1.7% in Q1 2020, the largest contraction since Q4 2008. The decline was driven by falls in spending on transport, restaurants and hotels, and clothing and footwear.
This was partially offset by increased spending on food and drink, and alcohol and tobacco while spending in the recreation and culture category was boosted by increased demand for items such as televisions and audio-visual equipment.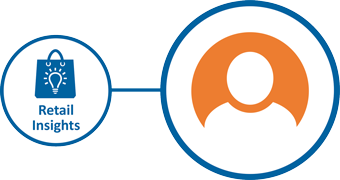 Why get a FREE TRIAL?
It's free for 30 days
Download a great selection of reports
No obligation
No credit card details
Cancel at anytime
No hassle
Excel with our RETAIL INSIGHT
START MY FREE TRIAL >