GDP Monthly Estimate: November 2019
UK gross domestic product (GDP) rose 0.1% in the three months to November, slowing on October's 0.2% rise which, along with September's data, has been upwardly revised.
Growth in construction was outweighed by weaker performances in services and manufacturing.
Monthly GDP fell 0.3% in November, following a 0.1% monthly rise in both September and October. Falls in services and production offset growth in construction.
The long-term picture suggests that economic activity is weakening, with growth compared to the same period a year ago the weakest since spring 2012.
Growth, three-months on previous three-months and same three months a year ago, UK, October to December 2018 until September to November 2019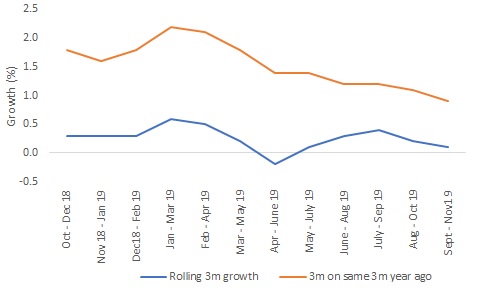 Source: ONS
Services
Services output continued to slow in the three months to November, up by just 0.1% compared with 0.3% growth in October. The real estate sector was the main contributor to growth, while the contribution from the wholesale, retail and motor trade segment slowed on the previous period.
Looking at the rolling three-month growth compared with the same three months a year ago suggests that growth is the weakest since December 2017.
On a monthly basis, Services output fell 0.3% in November, following growth of 0.3% in October 2019. Small increases in several industries was offset by falls in scientific research and development and wholesale trade.
Production
Production fell by 0.6% in the three months to November, driven by a 0.8% dip in manufacturing. Several industries drove the fall with the manufacturer of pharmaceuticals component down 6.2% while water supply and mining and quarrying also reported falls.
On a monthly basis, production fell by 1.2% in November, compared with a 0.4% rise in October. Within production, manufacturing fell 1.7% driven by falls in the manufacture of transport equipment, food and chemicals. Given these industries were the main downward contributors to production growth in April, after the UK's original exit date for leaving the EU, this could be indicative of the change in the timing of activity in relation to the delayed move (to leave the EU) in October.
Construction
Construction output increased by 1.1% in the quarter to November, up from 0.8% growth in October. The main drivers were infrastructure (+3.0%) and private commercial (+1.8%).Construction on a month-on-month basis rose 1.9%% in November after a disappointing 2.2% fall in October 2019.
The main positive contributors to monthly growth were private new housing (+4.6%) and non-housing repair and maintenance (+3.1%), which both demonstrated healthy rises.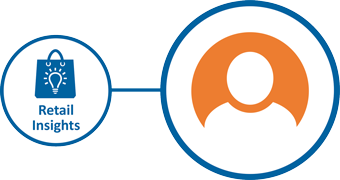 Why get a FREE TRIAL?
It's free for 30 days
Download a great selection of reports
No obligation
No credit card details
Cancel at anytime
No hassle
Excel with our RETAIL INSIGHT
START MY FREE TRIAL >