GDP Monthly Estimate: July 2020
UK gross domestic product (GDP) fell by 7.6% in the three months to July 2020, with all main sectors of the economy recording a decline. Indeed, the services sector fell by 8.1%, production by 3.5% and construction by 10.6%.
Monthly GDP rose by 6.6% in July, following June's rise of 8.7% and a 2.4% uplift in May. GDP is now 18.6% higher than the low recorded in April but is still 11.7% below the level seen in February 2020.
UK GDP growth, Quarter 1 (Jan to Mar) 2005 until May to July 2020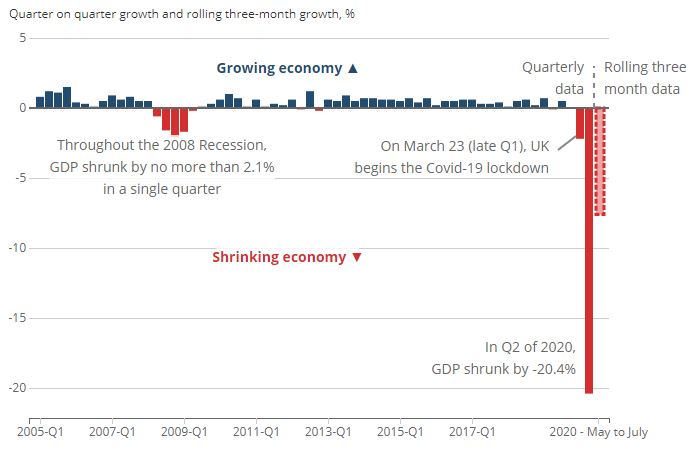 Source: ONS
Services
Services output rose by 6.1% on a monthly basis in July, although remains 12.6% below the pre Covid-19 level in February 2020. Significant contributions to the increase came from Education which grew by 21.1%, wholesale, retail and repair of motor vehicles (notably the motor vehicles industry) and accommodation and food service activities which increased by 140.8% (albeit remaining 60.1% below the level in February 2020.
On a three-month rolling basis, services output fell by 8.1% an improvement on the 19.9% decline in June. Notable declines were reported in health (-23.6%), food and beverage service activities (-60.1%), education (-14.3%) and accommodation (-69.2%).
Production
Production output increased by 5.2% in July 2020, with manufacturing growing by 6.3%. Despite July's improvement, production output remains 7.0% lower than February 2020.
In the three months to July, production output fell by 3.5% following June's 16.9% fall. Falls were recorded in three of the four sub-sectors: manufacturing (-4.4%), electricity, gas, steam and air conditioning supply (-3.2%) and water supply (-0.7%).
Construction
Construction output rose by 17.6% on a month-on-month basis in July, following June's growth of 23.6%. This was driven by new housing, notably in private housing (18.1% weight in construction) which rose by 30.3%. Despite July's growth, the construction sector remains 11.6% below the February 2020 level.
Construction output declined by 10.6% in the quarter to July, following June's record decline. This was driven by record falls in private new housing (-17.0%) and private commercial (-17.9%).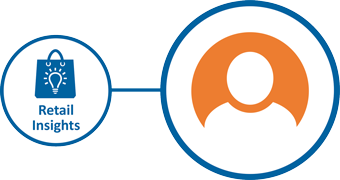 Why get a FREE TRIAL?
It's free for 30 days
Download a great selection of reports
No obligation
No credit card details
Cancel at anytime
No hassle
Excel with our RETAIL INSIGHT
START MY FREE TRIAL >