GDP Monthly Estimate: January 2021
UK GDP fell by 2.9% in January as economic activity shrank on the back of lockdown measures. GDP remains 9.0% lower than the level seen before the full impact of the pandemic in February 2020, and 4.0% below October 2020, the initial recovery peak.
However, the hit to the economy during January was smaller than expected, below forecasts for a 4.9% decline and a fraction of the 18.3% collapse in April 2020, the last time schools were ordered to close. From an economic perspective, businesses are becoming more accustomed to adapting to periods of tighter restrictions.
In terms of sectors, the Services sector (-3.5%) was the main drag on economic activity in January, while there was a slight decline for Production (-1.5%) and a 0.9% rise for Construction.
Monthly GDP growth, percentage points, January 2021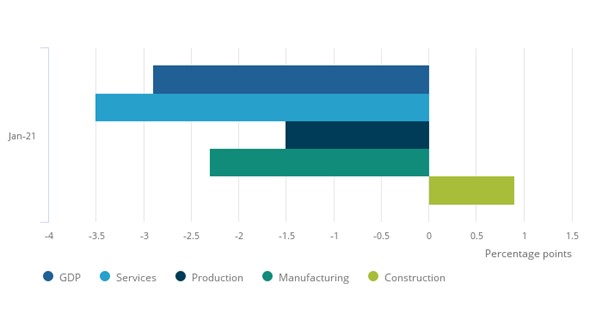 Source: ONS
Services
Services output fell by 3.5% month-on-month in January, as tighter restrictions were imposed on consumer-facing industries.
Services output is now 10.2% below the level of February 2020. Retail trade, education services and foodservices were the main contributors to the fall in January.
Unlike the previous lockdown in November, the education sector was impacted by school closures in January. Education services contracted by 16.3%, the second largest contributor to the monthly decline. At the other end of the spectrum, strong growth was recorded in health-related services (+8.7%), driven by coronavirus testing and tracing, and the rollout of vaccination centres across the UK.
On a three-month rolling basis, services output declined by 2.4%, reflecting falls in retail trade and accommodation and foodservice activities, which contributed to a combined 1.91 percentage points of negative growth to headline GDP.
Production
Production output fell by 1.5% in January, following eight months of consecutive growth. The sector remains 5.0% below its February 2020 level.
Manufacturing was the main drag on production. Manufacturing output contracted by 2.3%, the first monthly decline since April 2020, largely driven by a fall in exports. Most notably, manufacturing output in the motor vehicles industry dropped by 16.9%.
In the three months to January, production output rose by 0.7%. This was driven by increases in two out of the four sub-sectors, most notably in manufacturing following growth in both November and December 2020.
Construction
Construction output rose by 0.9% on a month-on-month basis in January, after a decline of 2.9% in December. The sector remains open during lockdown and has benefited from a rise in new work at the start of the year, boosted by private infrastructure projects and new housing.
Output in January was 2.6% below the level seen in February 2020, having previously recovered to its pre-pandemic levels in November 2020.
Construction output rose by 1.7% in the three months to January, driven by infrastructure, non-housing repair and maintenance and private new housing, which grew by 7.4%, 4.1% and 2.7% respectively.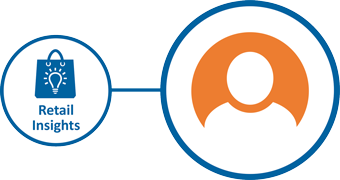 Why get a FREE TRIAL?
It's free for 30 days
Download a great selection of reports
No obligation
No credit card details
Cancel at anytime
No hassle
Excel with our RETAIL INSIGHT
START MY FREE TRIAL >