GDP First Estimate: Q3 2019
The preliminary estimate of Q3 GDP rose 0.3% on the previous quarter, following a 0.2% decline in Q2. This was below the Bank of England's forecast of a 0.4% rise.
The underlying picture suggests signs of slowing, with growth of 1.0% on Q3 2018 the weakest since Q1 2010.
The monthly data indicates that a strong rise in July (+0.3%) supported growth in Q3. having fallen by 0.1% in September and 0.2% in August.
GDP per head rose by 0.2% in the quarter, up from the 0.4% decline in Q2 2019.
Household expenditure rose 0.4% in Q3, unchanged from the previous quarter.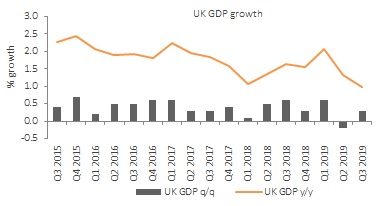 Source: ONS
Services
Services output remained relatively subdued in Q3, with growth of 0.4% on the previous quarter support by all four sub-components. Despite bouncing back from a 0.1% rise in Q2, growth is lower than we saw a year ago, when growth averaged 0.6% per quarter.
Wholesale, retail and motor trades, increased 0.3% in Q3 following a 0.1% increase in the previous quarter. Growth was supported by the retail sector with official retail sales figures rising 0.6% in Q3.
Production
Production output was flat in the third quarter, following a 1.8% decline in Q2. This was driven by volatility in the manufacturing industry. Falls in several sub-categories were offset by a rise in the manufacturing output of transport equipment. This recovery follows a decline in car production in the second quarter as some car plants partially closed.
Construction
Construction output increased by 0.6% in Q3 compared to a 1.2% decline in the previous quarter. Strength in new construction work supported growth, particularly in private new housing work.
Separate data from the Bank of England also supported this, noting in their recent agents' summary of business conditions report that residential construction was strong.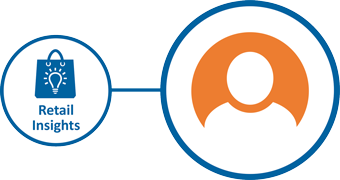 Why get a FREE TRIAL?
It's free for 30 days
Download a great selection of reports
No obligation
No credit card details
Cancel at anytime
No hassle
Excel with our RETAIL INSIGHT
START MY FREE TRIAL >