What election promises mean for UK retail
Campaigning has been rather subdued this week, and rightly so. Last Friday's tragic events at London Bridge threw the yah-booery of politics as usual into sharp relief. However, the countdown to polling day continues and as it edges closer, no doubt minds will turn again to the promises being made in order to win votes.
From a retail perspective, what the parties have to say on business taxation will matter a great deal for the long-term health of the industry. Retailers account for 5% of GDP and pay around £13.5bn in direct taxation to Her Majesty's Treasury in the form of national insurance, business rates and corporation tax. Any movement in things such as corporation tax rates (of which UK retailers pay around £2.7bn annually) will directly influence the bottom line of many retail businesses.
Unfortunately for the nation's shopkeepers, any changes to business rates (which I looked at in my first column of the campaign) may well begin to be undone by the parties' proposals for Corporation Tax. The Labour Party are boldest in their plans, pledging to reverse many of the cuts that companies have benefitted from under successive Tory led Governments. They have stopped short of scrapping them altogether, offering vaguely to ensure that they remain lower than they were in 2010. While the Tories aren't planning any increases, they've decided that the time is not right for any further cuts and have opted against pressing ahead with their previous plans to lower Corporation Tax further.
Perhaps the boldest (and potentially most concerning) proposals of the election so far are Labour's proposals on pay and employment rights. The party is promising the biggest overhaul of workers' rights for decades. Their proposals include:
A living wage of at least £10 per hour
Inclusive Ownership Funds for large companies (requiring them to have up to 10% of the company owned collectively by employees)
A third of board members to be elected worker-directors
A 32 hour working week and ending the working-time directive opt out
Full employment rights from day one
Banning zero hour contracts
Enforcing paid breaks during shifts
Increasing statutory maternity pay for mothers and fathers
Introducing four new bank holidays.
Essentially, the party is planning a revolution in the relationship between the employer and the employed. While I make no philosophical judgments here, what is clear is that each of these proposals will have a cost to business attached. Employment costs already make up approximately 46% of a retailer's total operating cost and, at a time when the retail workforce is shrinking, making employing people more expensive is only going to accelerate the pace of change in the industry.
On the other side of the political fence, the Conservative's plans on workers rights, like much else in their manifesto, is seen through the lens of Brexit. All they have included is a vague commitment to develop robust protections for workers' rights when regulation diverges from Brussels. They give no further detail beyond their recommitting themselves to increase the living wage to £10.50 by 2024 and reducing the age at which people could receive it from 25 to 21. Treasury estimates suggest the proposal would raise the low-pay floor from 60% to two-thirds of median earnings.
If there isn't much succour for the industry in those proposals, then perhaps retailers will be hoping that consumers may benefit and that some of that may flow through to the checkouts. Both parties have shied away from raising personal taxation for most people, however Labour is pledging to tax those earning over £80,000pa a little more. The Tories have promised a freeze on NI and Income Tax and both parties have committed to holding VAT at current rates.
However, this year has seen a sharp acceleration in spending power with nominal wages rising at the fastest rate for around a decade and real wages rising fastest for over 2 years. Indeed, discretionary spending, the amount left over after all essentials have been paid, rose by almost 7% in September, but the benefits of this boost are simply not feeding through to the retail sector.
Despite the improvement in our household finances, the propensity to spend remains weak with consumer confidence fragile. Indeed, our data shows consumers put "Brexit" at the top of their concerns, followed by "lack of savings" and "levels of debt". This suggests that even if there is more money in their pockets after the elections, it's less clear whether they will part with it in any major way.
I'd love to have found more for retailers to celebrate when I was reading through the manifestos. Unfortunately, on balance it seems that whoever enters Downing Street next week, there will be no Christmas bonus for Britain's retailers. Perhaps a New Year's resolution then should be to redouble efforts to demonstrate how important our industry is and how targeted support could sow the seeds of a new roaring 20s for retail.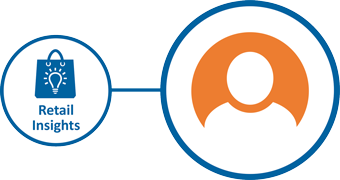 Why get a FREE TRIAL?
It's free for 30 days
Download a great selection of reports
No obligation
No credit card details
Cancel at anytime
No hassle
Excel with our RETAIL INSIGHT
START MY FREE TRIAL >