Consumer spending powers ahead in first quarter - but is retail being left behind?
Consumer spending continued to power ahead in the first quarter of 2015 rising by +0.9 per cent compared with the previous quarter a significant upward revision from the earlier estimate of +0.5 per cent. On an annual basis, this left annual spending up 3.4 per cent higher than last year.The fastest growing components of consumer spending included Recreation and Culture +7.8 per cent yoy, Miscellaneous expenditure, which includes items such as health and beauty, insurance and jewellery +5.1 per cent yoy and Clothing and Footwear +4.4 per cent yoy. The food sector continues to struggle from persistent deflation, increasing competition and rapidly evolving consumer habits. This resulted in a 0.5 per cent decline against the previous year dragging down overall consumer spending growth.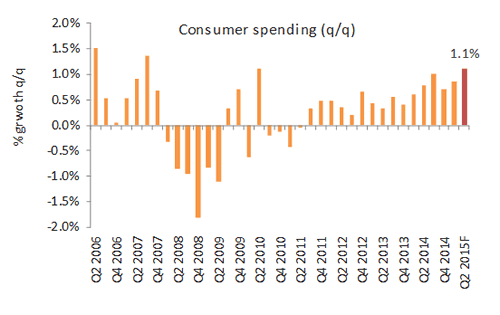 Source ONSThe backdrop for households is extremely encouraging. Real incomes are rising at their fastest rate for around eight years, employment levels are at all-time highs and consumer confidence hasnt been higher for 20 years. Underlying momentum in spending is strong and the latest data completes 15 consecutive quarters of positive growth. We expect these factors to continue to support strong growth and forecast spending to rise by 1.1 per cent in the second quarter of 2015 compared with the previous quarter the strongest since the financial crisis.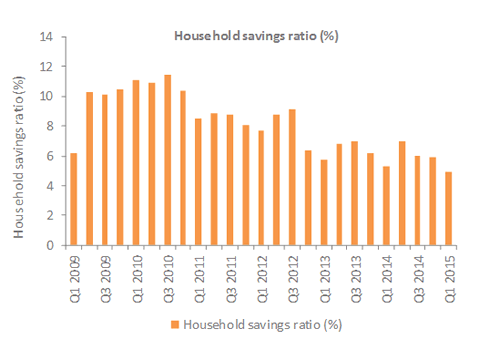 Source ONSHowever, it would appear that households have reduced levels of saving in order to drive additional spend. The household savings ratio fell to 4.9 per cent in the first quarter from 5.9 per cent in the previous quarter the lowest level since 2008. Nevertheless, we remain confident that growth in household spending will be built on strong foundations, especially as real income growth accelerates.Average earnings exc. bonuses rose to 2.9 per cent in April, the fastest growth since December 2008. With inflation remaining at near-zero, real incomes are rising at their fastest rate in over seven years. With the main downward pressures from the CPI basket coming from components that are relatively price insensitive, the scope for additional discretionary spending is considerable.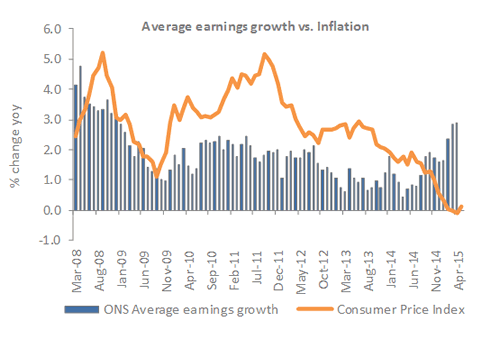 Source ONS, Retail Economics analysisHouse price rises remained steady in May, up by 4.7 per cent year-on-year, a marginal slow from the previous month. We remain confident that changes in stamp duty regulations and strong underlying economic conditions will provide support for the housing market for the remainder of the year and house price rises will begin to accelerate once more.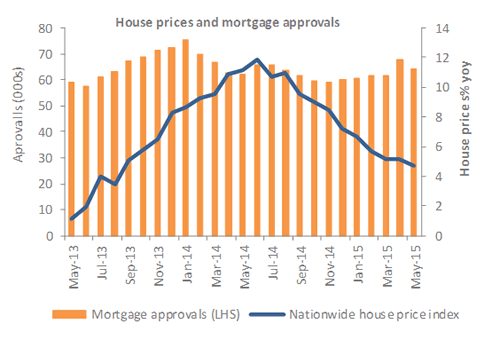 Source Nationwide, Bank of England, Retail Economics analysisConsumer spending accounts for around two thirds of the economy and despite one third of this coming through the retail sector, retailers do not appear to have benefitted to the same extent as other parts of consumer spending. A comparison of consumer spending growth against total retail sales growth, as measured by the BRC-KPMG Retail Sales Monitor, is shown in the chart below.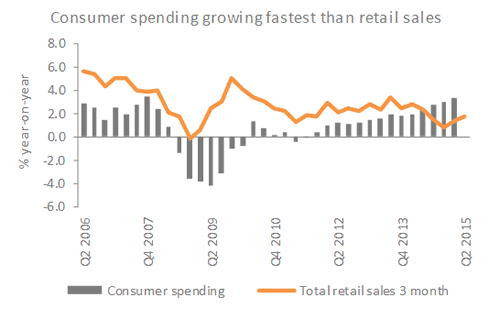 Source ONS, BRC, Retail Economics analysisIt is the first time in over 10 years that consumer spending has consistently outpaced retail sales. This recent trend has posed us with some interesting questions why has the retail sector not benefitted as much as other parts of consumer spendingUnderstanding the differences in sales measures is very important. So while we feel that the BRCs measure is likely to represent a more accurate representation of the health of the retail sector than the ONS measure, the sample is much smaller and it doesnt pick up the performance of small retailers.A direct comparison of the extent to which growth rates between the ONS and BRC have differed reveals that over the last over the last 12-18 months the gap appears to have grown although narrowed in recent months.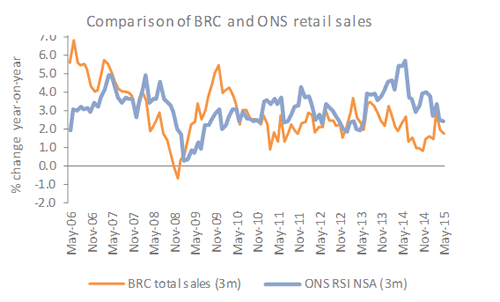 Source BRC, ONS, Retail Economics analysisOne possible explanation of the difference could be attributed to the performance of small retailers. The BRCs measure consists of sales from around 60 large retailers whereas the ONS measure includes c. 5,000 retailers, the majority of which are small retailers. While we feel confident that the BRC measure is a more accurate indication of the performance of large high street retailers, it does not account for the performance of smaller retailers. Is it possible that smaller retailers in the UK are doing that wellOther survey evidence suggests that there has been a revival in independents on UK high streets. The Local Data Company recently claimed that independent shops are growing at their fastest rate in years with a net increase in the number of stores. Higher vacancy rates on high streets 10.2 per cent in April 2015 according to the BRC and Springboard has led to cheaper rents and with the continued support from Small Business Rates Relief its becoming commercially viable to open small operations, especially when they are combined with a healthy online offering. The combination of a revival of independents and a move from consumers towards marketplaces such as eBay and Amazon which give may small retailers a vital route to market could explain the underperformance of large retailers in the UK market in the context of strong consumer spending numbers. The difference between the growth rate of the BRCs numbers and the ONS figures could be explained by the strong performance of small retailers although were not convinced.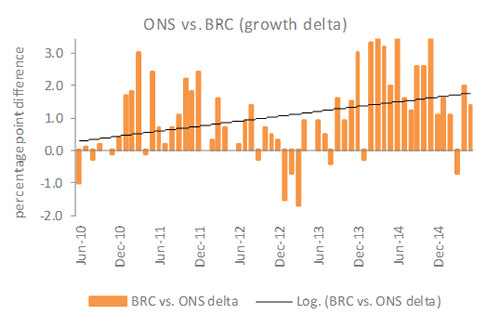 Source BRC, ONS, Retail Economics analysisWe think that its more likely that households are just not spending their additional income within retail and choosing to spend on the pursuit of leisure and experiences over material consumerism. Consumer spending data does support this assertion which the strongest growth in the last 12 months coming from Recreation and Culture. For more information please see our paper on "Is the consumer recovery bypassing the retail sector - June 2015"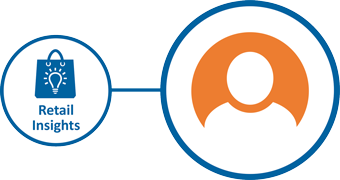 Why get a FREE TRIAL?
It's free for 30 days
Download a great selection of reports
No obligation
No credit card details
Cancel at anytime
No hassle
Excel with our RETAIL INSIGHT
START MY FREE TRIAL >