Black Friday fails to impress as Christmas performance hangs in the balance
Retail sales rose by 1.3 per cent year-on-year (non-seasonally adjusted) in November according to the Retail Economics Sales Index. The three month rolling average, which smooths seasonal distortions, rose to 1.6 per cent from 1.4 per cent in the previous period. Retail Economics Sales Index: Total retail sales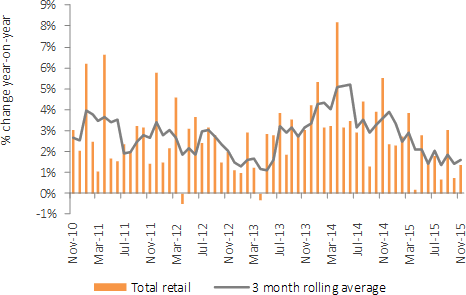 Source: Retail Economics - Retail Sales IndexBlack Friday had a positive but limited impact on sales growth for November. Overall, sales were a little weaker than expected given October's lacklustre performance and our expectations to the extent of pent-up demand. Nevertheless, Electricals saw the strongest growth across all sectors – up 13.6 per cent year-on-year. Compared with the previous month, sales rose by 34.0 per cent.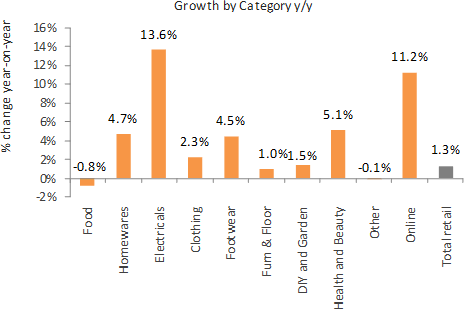 Source: Retail Economics - Retail Sales IndexMeanwhile, Clothing sales were up 2.3 per cent on the year, below the 12-month average growth of 4.1 per cent. The mild weather continued to hamper growth. Food sales remained in decline with sales shrinking 0.8 per cent year-on-year. Deflation of 2.4 per cent according to the ONS implies volumes were up 1.6 per cent. However, the Food sector remains under intense pressure from on-going deflation, competition from discounters and changing consumer habits. With the outlook for commodities remaining weak, we do not expect food inflation to return to the UK market until mid-2016 which will hold back growth in values.Overall household spending will continue to be supported by low inflation, rising real wages, low interest rates and high levels of consumer confidence, all of which have supported spending. Although the fundamentals underpinning UK households remain robust, the boost in consumer spending has not flowed through to the retail sector to the same extent.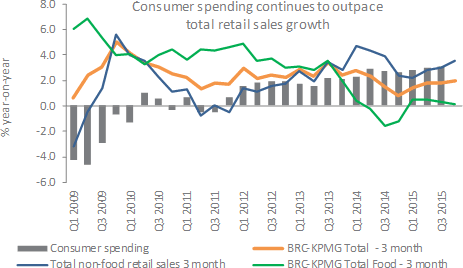 Source: ONS, BRC, Retail Economics analysisGrowth in consumer spending has outpaced total retail sales for six consecutive quarters. Admittedly, the growth of Non-Food shows a more favourable comparison. Nevertheless, over the last 12 months, Non-Food sales growth has struggled to keep pace with consumer spending having consistently outpaced it in the previous three years. Arguably, households have decided to spend their extra windfall on non-retail components of consumer spending. The latest data available showed an additional £9.6 billion of domestic consumer spending compared with the previous year - up 0.8 per cent. Recreation and Culture, Transport and Housing are the areas to have benefited the most from this additional spending.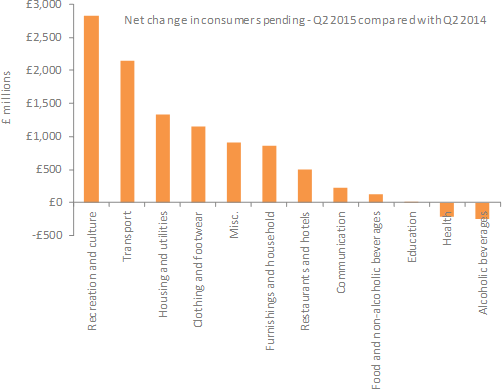 Source: ONSOf the additional £9.6 billion of additional spending compared with the previous year, Recreation and Culture and Transport accounted for over half. The proportion of consumer spending accounted for by the retail sector has been falling for many years, but this trend appears to accelerating. The consumer recovery is bypassing the retail industry and there is a growing body of evidence that suggests this is a structural change in spending habits. Digital and online has caused a structural change in household spending habits. The pursuit of experiences and service-based consumerism over material goods has shifted spending away from traditional retail.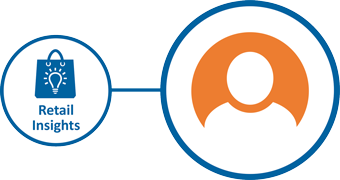 Why get a FREE TRIAL?
It's free for 30 days
Download a great selection of reports
No obligation
No credit card details
Cancel at anytime
No hassle
Excel with our RETAIL INSIGHT
START MY FREE TRIAL >