UK Retail Sales Report summary
November 2020
Period covered: Period covered: 01 Oct 2020 – 31 Oct 2020
Retail sales rose by 5.0% in September, year-on-year, according to the Retail Economics Retail Sales Index (value, non-seasonally adjusted, exc. Fuel).
This was the strongest performance since April 2017.
Food sales remained very strong, rising by 7.2%, up on the previous month as the Eat out to Help Out Scheme ended.
Christmas Outlook
The most significant challenge the industry faces is trading with constraints on capacity.
The usual Christmas scenes of bustling shopping centres are at risk of turning into long 'theme park style queues' snaking outside of shopping centres, retail units and inside shops.
Our research shows that over a third of consumers say that they will avoid shopping in physical destinations 'as much as possible' because of the virus.
Spending starts earlier
Retailers will attempt to shift demand forward to avoid the bottlenecks of these constraints where possible.
This is likely to be popular among some consumers.
Our research shows that almost a quarter (24%) of consumers are looking to start their Christmas shopping earlier this year.
Challenging backdrop
However, the economic backdrop for households will become increasingly challenging as the furlough scheme comes to an end in October.
Over a third are expecting to cut-back on their Christmas spending this year.
Rising unemployment, shrinking real wages and faltering confidence is going to undermine sales in some households – particularly the least affluent and the young.
Food benefits from on-going disruption in food services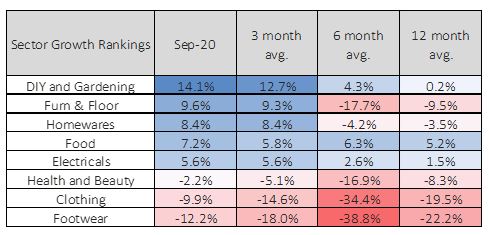 Source: Retail Economics