UK Retail Inflation Report summary
November 2020
Period covered: Period covered: 01 Oct 2020 – 31 Oct 2020
CPI inflation picked up in October, rising by 0.7% year-on-year, up from the 0.5% rise in the previous month – above market expectations of a 0.6% rise.
Eight categories contributed upward pressure in October, totalling 0.24 percentage points (pp) outweighing downward contributions of 0.10pp from four categories.
The largest upward contribution to the change in the 12-month inflation rate came from Clothing & Footwear, with prices rising by 2.8% between September and October this year, compared with a 0.8% fall a year ago. The majority of the upward pressure came from womenswear with smaller upward contributions from men's and children's wear.
The second-largest upward contribution came from Food & Non-Alcoholic Beverages (notably from the Food component) with prices rising this year having fallen a year earlier.
Also making a significant upward contribution was the Furniture, Household Equipment and Maintenance category with prices falling by 0.4% this year compared with a 1.1% fall a year ago. Furniture, Furnishings and Carpets, Household Textiles and Glassware, Tableware and Household Utensils were all said to have made notable upward contributions.
Consumer Price Index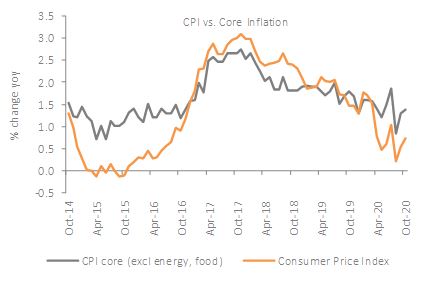 Source: ONS